Select a project (to your left).
Good stuff.
Click on something in the left column.
La Baliene Cafe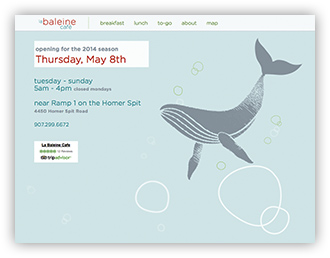 La Baliene Cafe is a fun & funky Homer Spit eatery, owned and operated by Kirsten Dixon and her daughter, Mandy. The menu emphasizes organic & local ingredients, and pays homage to the rich culinary history of the family's remote Alaskan lodges.
This website is the first for La Baliene Cafe, and reinforces the playful graphic identity created by Heather Turning. The site is optimized for mobile devices, and positions the cafe to attract on-the-go locals and tourists.
Cornerstone General Contractors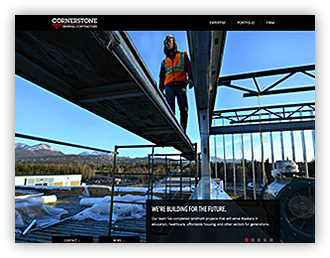 Cornerstone General Contractors provides commerical construction to South Central Alaska. At the time we launched this site, they were in the home stretch of building UAA's new sports arena.
They shared high expectations for design, and the resulting site presents large, rich and professional imagery in a clean, uncluttered interface. And yes, it's optimized for mobile.
Anchorage Park Foundation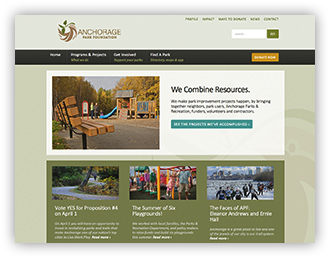 Since it's inception in 2004, the Anchorage Park Foundation has raised funds and rallied volunteer support to facilitate improvements to over half of Anchorage's parks. I'm proud to have worked with them the entire way.
The new site is a vast and deep resource of projects and resources – both for neighborhoods involved in a park project, as well as the general public looking for details on a park. The design is based on the 2013 re-branding done by Mad Dog Graphx, and is optimized for mobile devices.
Agnew::Beck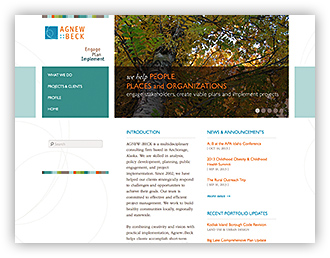 Agnew::Beck is a multi-disciplinary consultancy that provides, literally, a cornucopia of community development and land-use planning services to communities and business in Alaska and Idaho. This is the second website I built for A::B – the first having served them well for 9 years.
The primary challenge for this project was the information architecture – how to clarify their broad spectrum of capabilities, and create connections between their services, market sectors and rich project history. The design honors the well-polished graphic standards A::B recently produced in-house.
The Alaska PTAC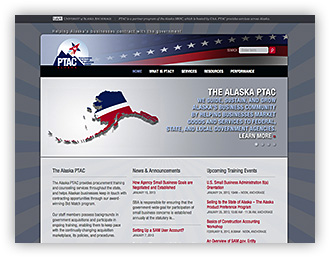 The Alaska Procurement Technical Assistance Center (PTAC), a program of the Alaska Small Business Development Center, assists businesses that sell goods and services to the federal, state and local government agencies.
This project focused on promoting PTAC's workshops and procurement support services to a growing population of Alaskan businesses. Links from workshop pages connect visitors to a workshop reservation system. It's a rather vibrant and energizing look for an industry that can be dominated by drab versions of red, white & blue. And it looks nice on your iPhone.
Cook Inlet Tribal Council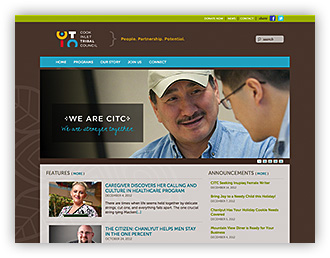 Cook Inlet Tribal Council (CITC) is a tribal nonprofit organization that annually assists over 9,000 Alaska Native and American Indian people with a wide range of education, employment, family and recovery services.
The design honors their impressive graphic identity standards. Highlights of the site include quick and clear access to program descriptions, an easy-to-manage system for news and program highlights, social media integration, an email campaign system, and custom integration with their existing donor management system.
LeadDog Consulting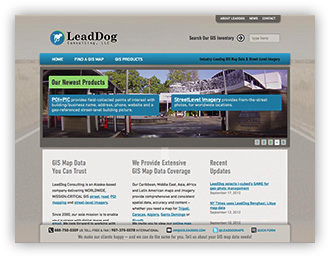 LeadDog Consulting provides GIS data, map and other location-based products to a worldwide customer base of enterprises, governments, media, institutions and intelligence efforts. The challenges of this project centered around information architecture – they offer map products for over 200 countries – and of maintaining the search engine ranking they had achieved through past efforts.
In addition to meeting the SEO goals, the site includes engaging interactive features that provide a sense of immediacy and responsiveness, and allow visitors to get deep into the site with minimal clicks. An easy-to-administer system for adding map previews makes publishing a quick task for their staff.
Alaska Growth Capital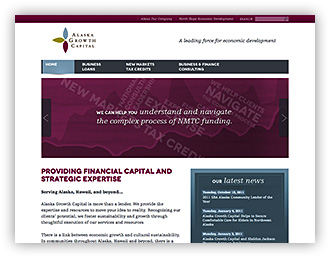 Alaska Growth Capital, a subsidary of ASRC, is a leader in economic development finance that provides commercial loans and business consulting to urban and rural clients. The top goal of their redesign project was to clarify their services and expertise, while reinforcing their social value of working in under-served communities in urban and rural areas, in Alaska and beyond. This website is also optimized for mobile devices.
Sini Salminen provided the highly-polished visual creative.
Alaska Design Forum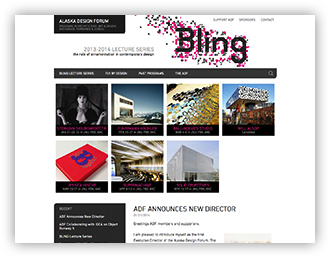 The Alaska Design Forum presents lectures and programs that aim to expand horizons and introduce ideas for art and architecture. In the summer of 2009, I joined the Forum's board of directors.
I created this site to better communicate Forum events, as well as share the rich history and accomplishments of this all-volunteer organization. Each year's design update reflects the season poster (which is created by the talented Karen Larsen).
This site is also optimized for mobile devices.
Within The Wild Alaskan Adventure Company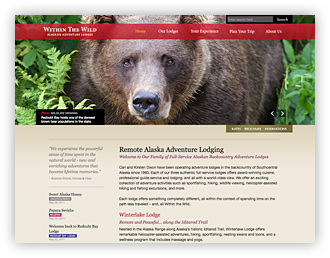 Within The Wild is a family of three remote, full-service adventure lodges. Their diverse goals were centered around a collection of messages unique to their philosophy, their offerings and their audiences. Further, we needed to differentiate their lodges, establish the wide range of adventure activities available, and reinforce their incredible culinary emphasis (for the cuisine provided to guests, as well as cooking classes).
The site includes numerous slideshows (that show off their excellent collection of photography), a blog for sharing both recipes as well as stories from their lodges, and several other key interactive features. This project was my fifth such collaboration with graphic designer Sini Salminen.
ASRC Construction Holding Company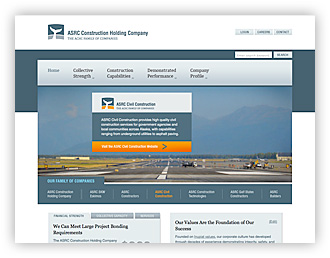 ASRC Construction Holding Company (ACHC) leads a family of construction subsidiaries that provide turnkey solutions across Alaska, across the U.S. and around the world. ACHC needed inaugural or redesigned websites for itself and its subsidiaries.
In collaboration with Sini Salminen, who created ACHC's graphic identity as well as the distinctive interface design, we delivered seven websites that establish the collective capacity and strength of the family of companies, while still clarifying the individual services, value and experience of each subsidiary.
Alaska Small Business Development Center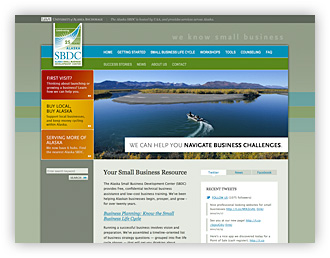 The Alaska SBDC wanted to re-invigorate it's online presence, both visually as well as with the messages delivered. For their website redesign, we focused on differentiating their wide array of services and programs, better serving their geographically-dispersed audience, and communicating their many successes.
Since the redesign, I've continued to work with the Alaska SBDC on projects that broaden and expand their online services. We've implemented a self-service tools area, hooked up a third-party workshop reservation system, and are monitoring visitor metrics to ensure that online efforts are showing meaningful use.